Certified Medical Assistant Program
Interested in becoming a (CMA) Certified Medical Assistant?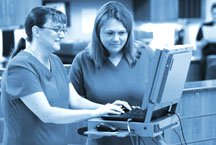 Sarah Bush Lincoln is partnering with Lake Land College to provide a Medical Assistant Bridge program. This program is for qualified SBL Certified Nursing Assistants who have been employed a minimum of 480 hours, and will prepare graduating students to function in the role of a Certified Medical Assistant.
Students who successfully complete the course will be trained to serve as a liaison between the physician and the patient. Certified Medical Assistants are skilled healthcare employees using their knowledge in clinical and administrative areas to include:
    • billing and coding
    • maintaining medical records
    • completing basic clinical assessments
    • recording vital signs
    • preparing patients for examinations
    • collecting blood specimens
    • performing basic laboratory tests
    • preparing and administering medications
    • assisting physicians with treatments and minor procedures
CLASSROOM AND LAB HOURS
    4 – 8 pm    
    August 23, 2021 to May 2022
    Tuesdays
TUITION WAIVER PROGRAM
    For those who qualify, SBL will cover the cost of the course.
INFORMATIONAL SESSIONS
    Representatives from Lake Land College and Sarah Bush Lincoln will be available to answer
    any questions on:
        Monday, June 28
             7 – 8 am  
        Wednesday, June 30
             6 – 7 pm    
     Lumpkin Family Health Center for Health Education, Madison/Jefferson Room
FOR MORE INFORMATION
   Tracey McCord, MSN, BA, RN, NPD-BC
   Professional Development Coordinator
   217-238-4987 or TMcCord@sblhs.org