Professional Governance
What is Professional Nursing Governance?
Professional governance is a structure that empowers professional, direct-care registered nurses to contribute collaboratively as decision makers regarding the nursing practice environment.
What does the Sarah Bush Lincoln Professional Nursing Governance do?
The purpose of professional nursing governance at Sarah Bush Lincoln is to empower registered nurses to share in leadership by identifying concerns and driving decisions to improve professional practice, patient care, quality, and safety in order to strengthen our culture of excellence while providing trusted, compassionate care to all and promoting healthy communities.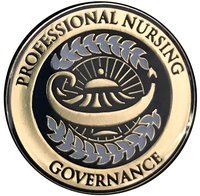 Look "past simple notions of empowerment and seriously look at empowerment as a frame of reference for engaging the staff more fully in those decisions that affect what they do".
~Tim Porter O'Grady